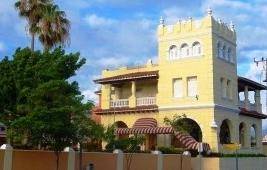 Looking like a small colonial-style palace, it stands out in Varadero given its special grace and the elegant shape of its walls. Marked by modernity and defined by aspects of other eras, from which it takes its quarried-stone exterior walls veneer and…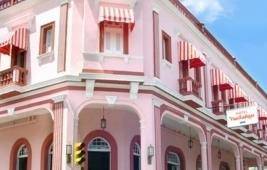 Vueltabajo Pinar del Rio Beach
A charming colonial hotel right in the heart of Pinar Del Rio, Vueltabajo is a good choice for those wanting traditional Cuban culture away from the main tourist areas of the island. The Vueltabajo hotel is Pinar Del Rio in a nutshell: a bustling, old-fashioned…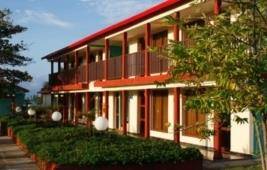 Yaguanabo Cienfuegos Nature
Hospitable facility made up by small, comfortable cabanas protected by prolific vegetation. Everything is set for you to enjoy recreational and cultural activities. Among them are boating on the Yaguanabo river to the Valle de la Iguana (Iguana Valley),…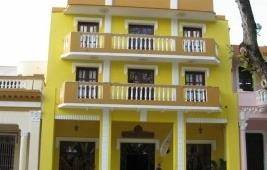 The Royalton hotel, built in the '40s, is right in the heart of the historical centre of Bayamo city. Returning guests testify to the winning combination of its pleasant rooms and excellent cooking. The town of Bayamo, founded in 1513 by the Adelantado…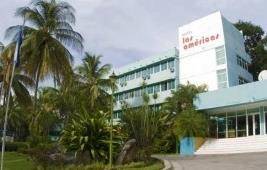 Las Americas Santiago de Cuba City
Built in 1975, and located a few minutes walk from the city's historic center, this is the best hotel value in the city. Hotel Las Americas facilities include a large swimming pool, disco, two restaurants and a bar.
Villa San Juan Santiago de Cuba City
Hotel Islazul San Juan is in the city of Santiago de Cuba, a few minutes away from downtown. Surrounded by trees and flowers, and located a few meters from the Parque Historico Militar in La Loma de San Juan (San Juan Hill), site of the last battles…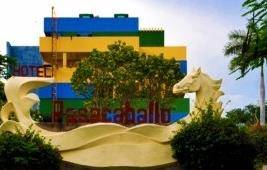 Pasacaballo Cienfuegos Beach
Located near one of Cuba's best diving areas, Hotel Islazul Pasacaballo will suit not only diving enthusiasts but anyone looking for relaxing surroundings, beautiful views & access to popular Cienfuegos. Though Pasacaballo hotel is not near…
Bella Habana Aeropuerto Havana City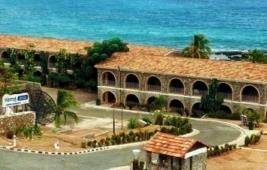 Costa Morena Santiago de Cuba Beach
Just 20 minutes away from the city, in Baconao Park, a preserve of the biosphere, the Costa Morena is a marvelous place for relaxing vacation near the Caribbean Sea, whose pleasant temperature is perfect for water sports. Add in the friendly service,…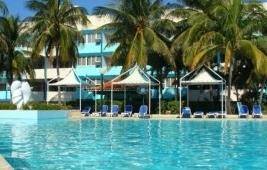 Mar del Sur Varadero Beach
Large but friendly, embracing a familiar but intimate concept of itself, this is a well conceived complex to enjoy the countless attractions of Varadero beach. It is a hotel that pleases its guests with the cheerful treatment and personalized attention…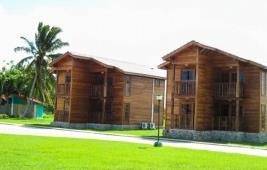 Villa Don Lino Holguin Beach
Surrounded by a reassuring ambiance, Islazul Villa Don Lino offers the visitor all the appropriate conditions to enjoy a pleasant stay. The Don Lino Hotel possesses a beach 280 meters long & 50 meters wide. Don Lino has become famous as The Great…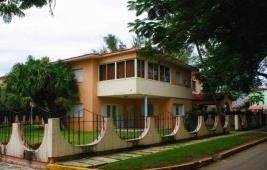 Hotel Islazul Sotavento actually is made up of 25 modern or colonial houses, with 1 to 8 bedrooms, all located on an excellent beach strip. On the grounds are a Mall, tennis court, safe-deposit service, money exchange, tourism bureau and taxis. Restaurant…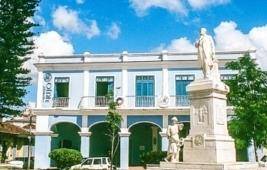 El Rijo Sancti Spiritus City
The lovely neo-classical three star Hotel del Rijo was formerly the residence of the renowned and illustrious doctor Don Rudesindo García Rijo in 1818, after whom it is named. It's located on the tiny Plazuela Honorato del Castillo looks…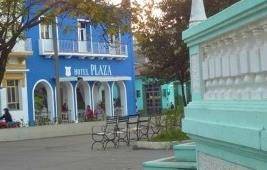 Hotel Plaza Sancti Spiritus Sancti Spiritus City
Hotel Islazul Plaza Sancti Spiritus stands in the old quarter of Sancti Spirtius City, near Trinidad. This hotel is perfect for those who would like to explore this wonderful city, discover its traditions, customs and life of local people. Plaza Hotel…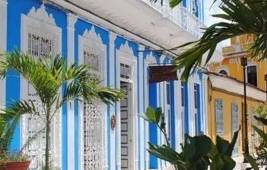 Don Florencio Sancti Spiritus City
Hotel Islazul Don Florencio is a small & charming hotel located in the centre of Sancti Spiritus. This mansion, which belonged to Don Florencio Méndez, has recently been restored to its former colonial glory & it is ideal for travellers…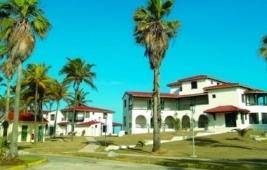 Club Karey Varadero Beach
Club Karey breathes the atmosphere of a traditional hacienda, but it is actually an All Inclusive resort made up of a collection of attractive buildings and gardensis, excellent value at this completely remodeled 104 room. With a simple, relaxed atmosphere,…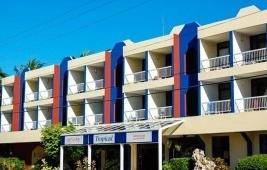 If you are a beach lover looking for an inexpensive all-inclusive hotel on a great beach, with the opportunity to explore other bars & restaurants outside the complex, then look no further than Club Tropical. The hotel is set on one of Cuba's…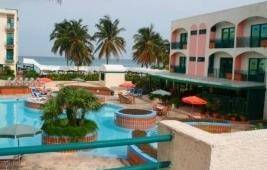 Hotel Los Delfines is in the center of the Varadero hotel area, on the beach. Is one of the historical hotels in the resort city. It has a long-standing and deeply rooted culture of ensuring that its guests are extended a warm welcome. It is located…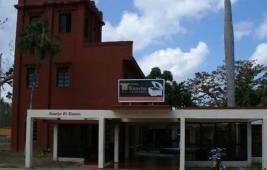 Rancho el Tesoro Isla de la Juventud Nature
Hotel Rancho el Tesoro is located in a very calm, beautiful environment, very close to the city of Nueva Gerona, in the province of Isla de la Juventud, about 150 km away from Havana. Rancho el Tesoro was founded in 1956 and is set with good taste in…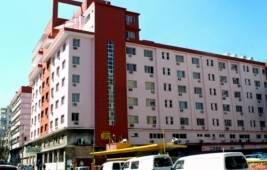 This hotel is in Havana's happening Vedado area, near the inimitable Malecón (seawall). The Hotel Vedado offers its guests the utmost privacy and tranquility – the perfect oasis to escape the rest of the world. Opened in 1952, the…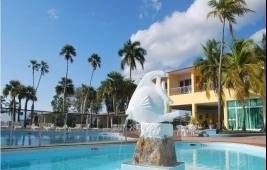 Colony Isla de la Juventud Beach
Hotel El Colony is located in the bay of Siguanea, just 45 minutes away from Nueva Gerona airport, which is just 35 minutes from Havana by plane. This colourful hotel dates back to 1958, when it began life as a Hilton, with a casino. The El Colony Hotel…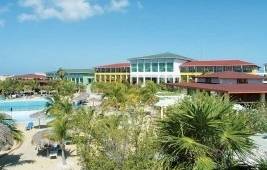 Bella Isla Resort Cayo Largo Beach
The Bella Isla Resort is the perfect retreat for relaxation and fun in the heart of the Caribbean. A beach resort on the shores of Cayo Largo, close to Playa Paraíso and Playa Sirena, it offers exclusive wood cabins that are perfect for enjoying…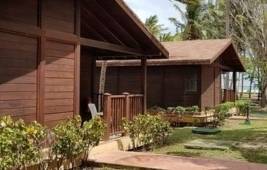 Starfish Cayo Guillermo Cayo Guillermo Nature
Starfish Cayo Guillermo is the perfect spot for the lovers of nature in its most pure state. Located on Cayo Guillermo, a small island just north of Cuba, in the Jardines del Rey (King's Gardens), and is 100 kilometers (60 miles) from the nearest…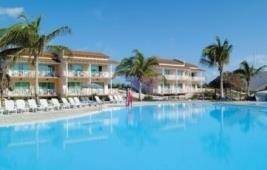 Pelicano Cayo Largo Beach
This 307-room hotel split between in several low rise buildings is part of a rustic beach complex with friendly service and lots of watersports available to guests. It's located directly on the beach, 15 minutes from the marina and 10 minutes from…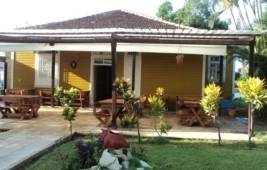 Villa Gaviota Santiago Santiago de Cuba City
The Villa is located in the Reparto Residential Vista Alegre residential, at only minutes from the historic, commercial and cultural center of Santiago de Cuba city, only 10 km from the international airport. Rooms: 4, from them 2 Junior Suites and 2…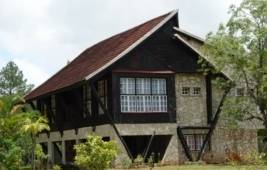 Villa Pinares de Mayari Holguin Nature
In the Meseta de Pinares de Mayarí plateau over 700m ver the sea level. From the floral point of view is one of the most interesting for its endemic species, in a vegetal coverage composed of original pines, forest among others. The biodiversity…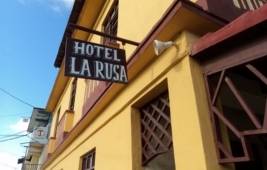 Hostal la Rusa Baracoa Beach
The motel is located in a privileged location in front of the coast line of Baracoa Town. A historic place because in its facilities lived the famous "Rusa de Baracoa". Rooms: 12 Standard Restaurants bars: 1 Restaurant (specialized in seafood)…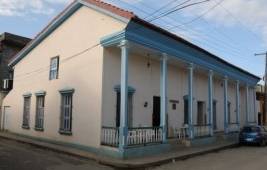 Located in a privileged position in the historic center of Baracoa Town. Rooms: 15 Snack-Bar: 1
Hostal La Habanera Baracoa City
The hotel is located in a privileged position in the historic center of Baracoa Town. Offers accommodation and restaurant services. Rooms: 10 Restaurants and bars: 1 Restaurant and 1 Snack-Bar.
Skedio, S.L. CIF: B62163670. # Travel Agency Licence: GC-3667 © 2020 Skedio Travel Group, All rights reserved